Opinion: We're in a stock market bubble driven by bored amateur traders (speculators)
The market has come a long way since mid-March.
We're now almost back to post COVID-crash valuations. Some of my investments are actually higher than they were then. Yet our economic situation, though now clearer, are no less dire.
Why?
COVID-19 is not as terrible for the global economy as the markets thought?
QE and other government/ central bank policies have propped things up?
Tech companies are making bank?
Perhaps some of this.
There's a lot of news and opinion calling the current climb the 'FOMO rally'. Driven by people who saw others 'buying the dip' and don't want to miss out. Novice investors testing the 'buy low- sell high' off the back of the March fall (1). Some of that is new users of trading apps and platforms. Freetrade hit 100,000 users in February (2). By their latest crowdfunding raise they had reached 150,000 (3). Small fry compared to Robinhood's 13 million active users (4).
Image Credit: /u/theycallmeryan (5)
I have skin in the game with Freetrade, having invested in their crowdfunding and using them for my ISA. If you would like a free share for signing up, drop me an email.
The number of trades per day is shooting up. Small traders, for the first time since 2000, have made more than 50% of the daily trades (6).
Image Credit: /u/theycallmeryan (5)
Some of that money is going into funny places. As bond yields fall people are investing in riskier corporate bonds, (1, 7). Robinhood users are making interesting plays and swapping more. They piled into Hertz (the car rental company) after it declared bankruptcy, sending the stock market sky high (1, 4, 8). See also JC Penney. These weren't long term purchases to hold. This was pure speculation on the price rising during bankruptcy proceedings, as many economic authors in classic tomes describe.
Image source: (8)
And as people are sat at home, furloughed or out of work, with no sport to watch or bet on, they're turning their amateur hands to the markets. The number of searches for 'how to trade options' has shot up:
Image Credit: /u/theycallmeryan (5)
And the number of small time traders buying options is climbing (6). As a result of delta hedging the price of the underlying securities of the options traded rises (5).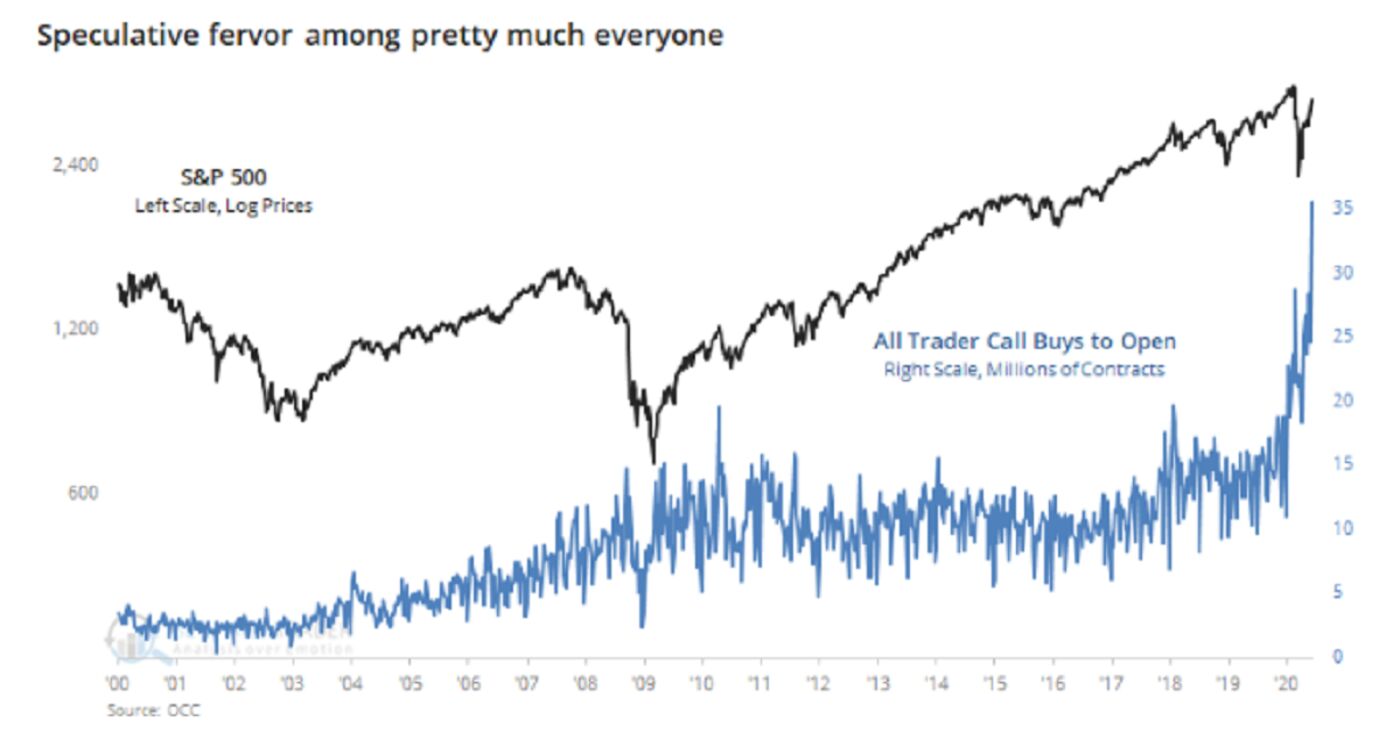 This has the effect of uncoupling market valuations from underlying stock value; the speculative options are irrelevant of value, and as others buy stocks as a hedge against the risk introduced by the speculation the stocks themselves become separate from the value. To make this picture even more complicated, the Fed's policy of QE this time has also included corporate bond ETFs right the way down to junk bonds, offering direct loans to risky companies, buying dodgy mortgage-backed securities, and buying the debt of the riskiest companies (5, 9). The QE methods taken by international central banks have basically eliminated risk from the equation by supporting those companies which should have bankrupted, in an effort to stop a depression.
This drops interest rates. It drives people to take more risk for returns. The risk averse pay down debt, which explains the falls in consumer credit debt we're seeing.
Debt is very cheap, and cashflows are uncertain due to Coronavirus, making the Discounted Cash Flow Model and underlying values difficult to calculate (10).
The Buffett indicator; composite market value of the market compared to GDP, is currently back at dotcom levels. Then they were 71%, now they're 74%, where >30% is overvalued.
So things are likely to remain rocky for a while.
The sensible course of action remains to ignore the movements, and bet on the gradual returns. Drip feed and dollar-cost average.
We live in interesting times.
Have a great week,
The Shrink
N.B. I aim to keep this blog apolitical. Some issues transcend politics. I share my voice as an ally. Black Lives Matter.
News:
Comment:
References: