A return to the Property Renovation series, picking up from where I left off in part II considering internal fabric and structure. Here I'll look at room specific construction, layout and furnishings.
Dry Rooms
I am using this as a catch-all for lounge/ living rooms, dining rooms, bedrooms, offices, corridors… basically any room that doesn't involve plumbing beyond central heating radiators.
The vast majority of fittings and furnishings in these rooms will be cheap to fix and replace. I've covered the walls and floors themselves in part II, but what about the added features. There's a brief 'Bluffers Guide' to period features available here, which I'll expand on in part (1).
Architrave
Is the wood panelling surrounding doors, windows and cupboards, which covers where plaster would crack over time through repeated movement. Fancier houses have fancier architrave. Cheap modern renovations or late 20th century houses often have very simplistic architrave. There's actually very few styles and most have been around since the Victorian era, so it's easy enough to replace and match. At worst, you can have a specialist company make a pattern and mill you some to match.
Image Credit: Pinterest
Ceiling Roses
Generally seen in older properties, ceiling roses first started appearing in the 1600s in affluent plastered homes as a ceiling decoration for chandeliers (2). They spread through the 18th and 19th centuries, gradually evolving in design such that you can use design elements to date a room if you're a proper nerd. By the 1850s developments in plaster meant that a ceiling rose did not have to be sculpted by hand, but could be cast in a workshop and sold in large volumes. These days you can get them in polystyrene (why?), plaster or metal (even more why?) in various styles off the shelf. Ceiling roses only really suit a room (IMO) with a 12-foot plus ceiling, but can be a good way to add period features back in quickly.
Image Credit: Victorian Cornice Company
Corbels
In a similar vein, corbels were originally simple projections from walls which held up structures above. The Victorians took inspiration from medieval builders in designing patterned corbels, which became more decorative (3). They reached a point of being entirely decorative, often non-weightbearing and made of plaster. They can also be found on fireplaces and shelving.
Image Credit: Pinterest
Cornicing and Coving (and Friezes)
Cornicing is the decorative moulding found at the junction of wall and ceiling. Technically cornicing is actually any form of horizontal decorative element that tops a building feature, the word cornice coming from the italian for ledge, and so external decorative moulding is also cornicing (4). We use cornicing interchangeably due to classical description of internal cornice over a frieze, with an architrave below. Cornicing tends to therefore refer to more intricately patterned mouldings, whilst coving is simpler. Cornicing and coving both come in plaster, polystyrene (and GRP/ other plastics) and wooden forms. Repairing damaged plaster cornicing can be pretty difficult, so always worth checking the state of all rooms. In really smart houses, echoing their classical roots, you may find plaster friezes below the cornicing and above the picture rail. Again from the 1850s onwards these could be cast in complete lengths and then fitted on site. Many of these skills have now been lost, and heavy successive coats of paint can hide detail, so finding such features in good condition is a treat.
Image credit: The Victorian Emporium
Dado rails and picture rails
A dado rail sits at around 90cm from the floor, and was originally used in the Georgian period to protect the wall from chair backs during formal dances (5, 6). They fell out of fashion but then returned as a separator for friezes or anaglyptas.
Picture rails have been around since the 15th century, but again we have the Victorians to thank for their widespread use as the lowly proletariat added them to their parlours as a fashionable way of hanging pictures (7). That is still what they're for. If you have picture rails, please use them, don't then stick a nail in the bloody wall. As ceilings got lower so did picture rails. As such, there is no correct height, picture rails can be placed anywhere between coving to architrave, but are generally placed 30 to 50cm (12 to 20in) below the ceiling. Picture rails are a great feature for a period home, and painting above in a lighter colour can add to the feeling of height as well as lightening up otherwise imposing rooms (8).
Image Credit: VintagePropertyRestoration.co.uk
Skirting
Serves the same function as architrave, masking the gaps between edges of plaster and floorboards which are likely to move. Skirting began to be used in the Georgian period, but again became popular in the Victorian era (9). The more grand or ornate the house, the taller and more intricate the skirting, before gradually becoming smaller again up to the 1980s. Much like architrave, skirting now comes in plastic, softwood or metal forms, and can be made to order to match previous designs. It's worth pointing out the difference with wood panelling, traditionally in the UK called wainscot, a much older technique pre-dating plaster. This dates from when buildings were stone, and wood panels were added to reduce draughts and keep the room warmer. Later they became decorative. Out of fashion currently, and you'll need a carpenter to repair (10).
Image Credit: Pinterest
All of the above furnishings and fittings can be added back in with care and attention to detail (8, 11). The '70s has a lot to answer for in terms of removal of features, but equally the current pre-occupation with Victorian features may well go out of fashion. We've viewed our position as custodians, and tried not to remove features of our property as we've renovated, even if we don't like them.
Fireplaces and chimneys
For as long as there have been dwellings, humans (great apes) have had fireplaces. These developed from central cooking fires, to hearths, to the inglenook. These were enclosed hearth areas off a main room, which incorporated a cooking area, a main fire, and sometimes bread ovens etc (12).
Image Credit: Wikimedia
These enclosed hearths were gradually incorporated into the room while retaining the grate or back. Cast iron firebacks were used to retain and radiate heat. Decorative surrounding were added in the Louix XIV, XV and XVI periods, extending into the Georgian period with more classical plaques or motifs (13). In the Victorian period developments in mass metalworking allowed for cast iron insets for fireplaces (14). These, and stylistic developments are most commonly seen today. Due to the gradual development of styles over time it's possible to date most fireplaces to a rough decade, like the Victorian one below (13, 14). Reclamation yards usually have a good selection of styles, and reproductions are available. 
Image Credit: FireplaceAntiques.co.uk
From the Edwardian era through the Art Deco period fireplaces were more commonly concrete and tile, and these can be harder to repair though replacements are available (15). The first electric fireplace came along in 1995 (just an overgrown electric radiation to me), and modern fireplaces are usually more about home interior design than serving as a traditional focal point. Make sure to match your new fireplace to the correct era. 
Image Credit: c20fireplaces.co.uk
A significant caveat and kicker when looking at properties to purchase or for renovations is around chimney breasts. These are the (usually) brick structures surrounding the fire and flue up to the chimney. They support the weight of the chimney above, and are often integral to the structural design of the property (16). Where fireplaces and chimney breasts have been removed for design or space purposes always check this has been done to regulations and by someone who knows what they're doing. Because of the weight carried above it would be usual to take the whole chimney out, not just a ground floor section. If this is the case then permanent support for the chimney above will need to be inserted, usually designed by a structural engineer (17). Beware the cowboy!
Wet Rooms
Bathrooms
For some, the place to brush your teeth and shit, hopefully not at the same time. For others, a place of tranquil relaxation. Interior design styles with bathrooms seems to change yearly, so I'll only briefly touch on things here. The Victorians, they obsessed with cleanliness, again kicked us off in the modern understanding of bathrooms once they mastered hot water, cast iron baths, plumbing and Mr Crapper added his flourish. Although I must admit, if I get the resources I'd go full caldarium/ frigidarium.
Image Credit: Hevac-Heritage.org
These spread after WW1, though your lowly commoner only really got indoor toilets and bathrooms post-WW2. Early versions had a water heater (often gas) next to the bath. During this period most fixtures were cast iron or ceramic, and decoration was often in the form of tiling. The claw foot freestanding bathtub began to disappear due to space constraints, and because they're a pain to clean around (18). Matching sets became fashionable, and with the uptake of coloured plastics we reached the avocado bath era (see part 1). Finally, in the 90s and 00s everything went sanitary white, for that sterilised clinical slab look.
Image Credit: Norsk Folke Museum
Lightweight plastics and modern manufacturing methods mean there's a smorgasbord of choice. Modern style appears to be going more slimline – low rise freestanding showers and built in toilets. Not my personal taste as they can be a pain to DIY repair. Lots of classical designs are also being re-used or updated (19). Even the bloody avocado bath (20). So don't rip it out just yet, the design world is your oyster.
Kitchens
Tied in with the hearth and central room for most of history, the spread of kitchens to the masses also came with the Victorians. This time as they cleared people from shared living slums to their own private homes. This coincided with wood or coal-fired stoves, which were much more efficient and quicker than open fires (21). These were developed to run on gas (1826) and electric (1912). Victorian kitchens were utilitarian workspaces, often with a Belfast or butler sink in a separate scullery (for wet cleaning work) and foodstuff stored in a pantry. The late C19th and early C20th saw these spaces opened up and incorporated (you can't fit a scullery in a miner's terrace). They've gradually become cleaner, sleeker and with more accoutrements as time has gone on. From a renovation point of view kitchens can soak up money, and you largely get what you pay for. A quick repaint and re-tile may be a few hundred, a second hand or cheap kitchen may cost you £1-3k, decent high end kitchens run to tens of thousands. Buyers choice.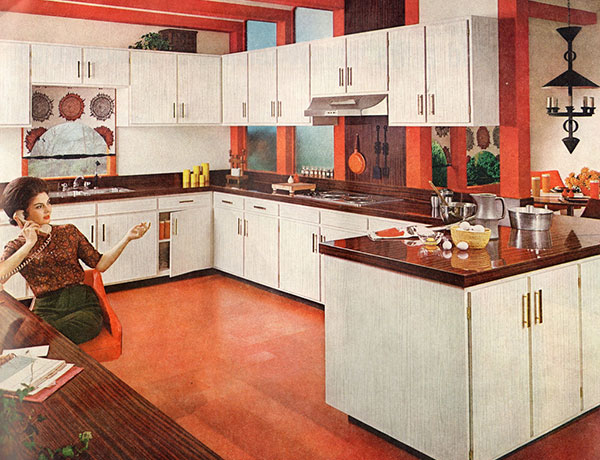 Image Credit: John Desmond/ Veterans United
Renovation potential
How many thousands of articles are there on assessing renovation potential? Everyone wants the short cuts. So now you've read my rough guide to features here's some tips:
Beauty is in the eye of the beholder
Most people (I think) will at some point want to make a stamp on the property they own. A lot of these stamps are highly personal taste. What you think is renovation, updating or beautifying may not be what a buyer or renter wants to see. Know your target: is this your forever home, a five-year stepping stone, or a BTL. 
Know the local ceiling price
Leading on from the above, there's no point buying a three-bed terrace and then throwing in a £30k kitchen, extension, basement and loft conversions if after all that it's only worth £100k. (Caveat: does not apply if you consider it your forever home). Go on Zoopla or Rightmove and look at the sold house prices for a feel for maximum value (22). For BTLs there's a good calculator at South St made by one of the r/UKPersonalFinance people (23). 
The ugly work can add the most, but might add nothing
Before thinking about painting, that new bathroom, the six-burner rangemaster, do the shitwork. Make the house warm, dry, secure and free of damp. Structural defects may be hidden and can cost huge amounts to correct with no direct gain to property value. Central heating, rewiring and re-plastering are messy jobs, but will almost always add value. The jobs which need special skills and are the most difficult are often the ones that add the profit (22, 24, 25).
If you've never held a paintbrush then raising the roofline for extra head space in that loft conversion is probably a bit too much. Be prepared to leave stuff to professionals (26). One man with the right tools could do something in two days that would take you two weeks. Brickwork, structural work, roofing, plumbing, and electrics all require specialist skills and kit. Plastering, carpentry and painting are all better with experience. 
Linked to the above, tradesmen will be insured and appropriately qualified. Many property changes require certification. The sob pages of the tabloids are filled with stories about eejits wasting money (27, 28). Get multiple quotes. Get planning permission. Get it signed off and keep the certificate somewhere safe (29).
Final Points
Here's three take homes if you can't be bothered remembering all that:
Know your worth – that overtime at your day job may be a better return on investment than DIY
Know the value – of the local property, and how long you're willing to hold it for to calculate cost/ benefit/ return on investment
Get multiple quotes, use reputable traders, get the certificates
Hope that was useful!
The Shrink
References:
https://www.houzz.co.uk/magazine/a-bluffers-guide-to-identifying-period-features-stsetivw-vs~79477800
https://www.brownstoner.com/architecture/victorian-bathroom-history-plumbing-brooklyn-architecture-interiors/
https://www.dailymail.co.uk/news/article-6303067/Woman-forced-tear-dream-home-spent-150-000-renovating.html