What's piqued my interest this week?
Bear with me.
Are you ready to starve?
Is basically the sensationalist headline that's been flying around in various forms in response to our governments arse-covering. Pretty much all the major supermarkets have warned a no-deal Brexit will bring food security issues and provision to UK supermarkets will be… spotty (1, 2, 3, 4, 5). Remember the #courgettecrisis of '17 caused by crap Spanish weather (6).
The argument from the Brexiteers is that we should grow our own, in some sort of dig-for-victory rose-tinted halcyon view of post-war Britain. Has anyone explained that crops take time to bloody grow? And the reason the UK became so reliant during WW2 on home-grown produce was food scarcity and rationing? They're not going to be able to magic up the tomatoes for your £1.99 own-brand high-salt high-sugar pepperoni pizza out of Morris the pensioners' greenhouse in Didcot.
Knock-on effects of no deal Brexit are no more cheap fruit, veg, meat and processing from the continents fields and factories (7). The price of food will rise. We already have it bloody good compared to the rest of the world. The average UK household spends 8% of it's earnings on food a year. Compare that to the rest of Europe where it's more like 10-15% (8).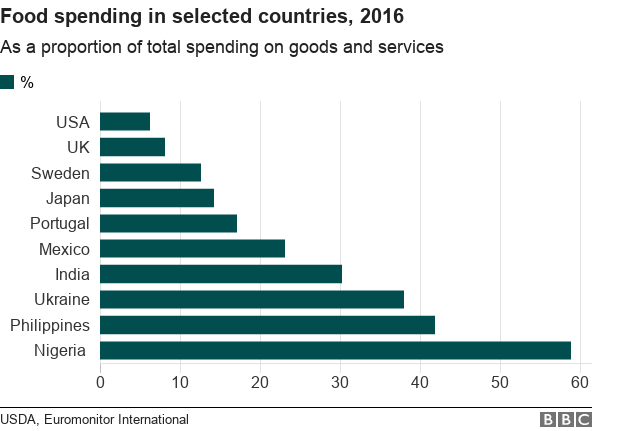 This is thanks in no small part to cheap imports and the competition between the big supermarkets. They've squeezed every inch out of overheads as they've grown to maximise profits, with vast supply chains that have taken years to develop. Even then their headline figures are minimal. Check out this chart I pinched from Reddit for Tesco, which has their net profit at a shade under 1.5%:
They can't soak up wholesale food cost rises. It has to go the consumer. The range of food available will decrease to be more seasonal, and the price will go up to reflect the more expensive supply chain. There's no need for a bloody sugar tax, Brexit will do that for us (9, 10).
So who are going to be affected as food prices go up?
Well the working class, or should I say those in lower socioeconomic classes, who disproportionately voted to leave (11). Because you have to buy cheaper food, and cheaper food is made with more sugar, more salt, more industrially produced refined products to cover up the lack of actual food (12). Poorer people eat less varied diets consisting of more commercially grown produce imported to the UK. Processing means factories means mileage and countries crossed (13). It doesn't have to be that way; a healthy varied seasonal diet can be cheaper. It just takes thinking about, time and effort (14).
Outcome of post-Brexit scarcity: either people eat more varied seasonal food because they have to, because that's all that's available; or they eat less of the high-sugar, high-fat, low-fibre processed shite that is associated with obesity etc, because it's expensive (15, 16). The sloven stacking microwave burgers into their slack jaw can now only afford two rather than three at once. Both improve public health (17).
So maybe Brexit will solve one of the greatest ongoing public health crises, starve the nation and (by cost reduction) save the NHS. £350 million is a lot of ready meals.
I'm aware of the irony of this rant given the Full English title.
Have a great week,
The Shrink
Opinion/ blogs:
The kitchen garden:
What I'm reading (now affiliate links):
Tombland – C.J. Sansom – I love the Shardlake series, detective novels set in the Tudor period with a crippled lead character. Beautifully written.
Food Of The Gods: The Search for the Original Tree of Knowledge: A Radical History of Plants, Drugs and Human Evolution – Terence McKenna – An ethnobotanist explores humanitys' fascination with hallucinogenics, and the role of altered states of consciousness on the development of human society.
Enchiridion by Epictetus – Bedside reading for a bad day
References: