I am feeling very torn of late. MrsShrink calls me an eternal optimist, and worries I get ripped off by hustlers looking for their next mark. I must admit I am hopeful about life (and finances), but that hope hides a deep-seated cynical miserable bastard. Said miserable bastard is stirring, moved by the sight of the markets and inflation. But let's start at the beginning.
GME
I started following r/wallstreetbets in 2019, mostly for the memes if we're honest. There has always been some decent analysis (DD in the parlance) on there, although since the GME prompted flood of interest in January it's mostly drown out by noise. I've never really invested based on r/WSB info, though I have read along with interest. This applied to when /u/DeepFuckingValue posted some analysis in mid-2020 about the long term view on GameStop (GME).
A lot of the media take on the subsequent GME squeeze in January and March has been of a collection of millennial neckbeards sitting in darkened basements "sticking it to the man" and organising themselves into groups to game the market. Troll armies swarming the walls of Minas Walls Street.
Have you tried to organise people online? It makes herding cats look easy.
GME took off because enough people read the analyses on r/WSB relating to institutionally oversold short float to be able to put pressure on the price. There might be a lot of apes on r/WSB, but there's also enough smart private investors with decent portfolio weight to lend power to this. This lead to 'gamma squeeze' and further price movement. Forbes actually did a great analysis of this (1, 2). As the price began to move it added to the narrative of the little guy making the institutions pay, leading to narratives like this (3). It's worth a read for the emotive angle. The actual owners attempting a restructuring of GME towards a new sustainable business aren't about to knock it (4). As a generation millennials spent formative years around the time of the 2008 financial crisis, and to many, the institutional banks just carried right on with no repercussions. This was not helped by institutional weight and alleged attempts at market manipulation (e.g. pressure on Robinhood to stop retail purchases of GME) which ultimately led to that weird congress hearing.
Millennial Investors
The footsoldiers in the media-spun frontline of this war are my generation, millennials, investing via the free-to-use apps like Freetrade (plug below), Robinhood, Trading212 etc. This appears to have garnered disdain from some corners, the suggestion that investing is something better done late in life with the addition of wisdom and grey hair, or a string of letters after your name. My grey hair argues otherwise. Previous generations could get a simple savings account that offered >3% annually if they wanted to save for a big purchase and beat inflation. Those products no longer exists, so thousands of young people saving up for their first home are looking for places to put their money. When NS&I, the last bastion of savings rates >1%/inflation, pulled the plug last year savers removed billions (6). Where do you think that money went?
The removal of friction and democratization of stocks and shares opened the floodgates (7, 8). We're all on board with equities beating inflation in the long run averages (9). Passive trackers make it easy. If you want to dabble in the casino based on your hopes for growth, companies you love might make you millions (10, 11). Where does accurate price discovery sit in this?
The roaring twenties
The COVID-19 related recession/correction in the stock market of Feb/March last year taught us a few things. The market fell by a eye-watering sum, but had reverted back to it's previous level in <6 months. Turns out borrowing and injecting funds at infinite limits into the market will do this sort of thing. The Spanish Flu epidemic of 1919 knocked back stock markets briefly, before they surged upwards into the roaring twenties (12, 13). So maybe we're seeing the same, a fall, an adjustment to new normal, and the acceleration of changes that were likely to happen anyway but have now been precipitated by force; home-working, online project management, a reduction in the high-street mainstream business economy and move to online sales, a reduction in commuting and the move of wealth from London to the provinces.
We also learnt that bonds aren't a great hedge for stocks anymore. We've seen bond returns go negative, and central rates hover above the 0% mark. This has mapped to nice cheap mortgages, but bugger all return on savings or bonds. As people fled the market in Feb-March 2020 it put more pressure on returns. Many FIRE followers work on the 4% rule; long run averages suggest withdrawing 4% from your portfolio annually will allow growth and prevent depletion. Safe options for the 4% return become more challenging in a 0.5% bond environment, meaning you push to stocks and shares (14). Increased risk. At the same time stocks and bonds are becoming positively correlated; when stocks fall bonds fall, when stocks rise bonds rise (15). Timing the market and pre-empting a crash, then watching your bond holdings rise in value no longer works. When the market goes down, everything goes down. This is probably ok, it just makes your asset allocation decisions harder (16).
Play the game
So let's play this thought experiment out. Passive tracker options have grown in popularity, and cheap frictionless methods to buy them have proliferated. Passive tracker growth means more big funds buying the same stuff with no thought to price discovery (Michael Bury's new bubble prediction (17)), and while active funds are cutting prices many are also buying similar portfolios to the trackers in an effort to be the least worst. Meanwhile 'meme stonks' and general growth focus has pushed PE ratios to silly levels, and weird investment vehicles like SPACs have emerged (7, 18). See the image of the S&P 500 P/E ratio from the fantastic Banker on FIRE (18).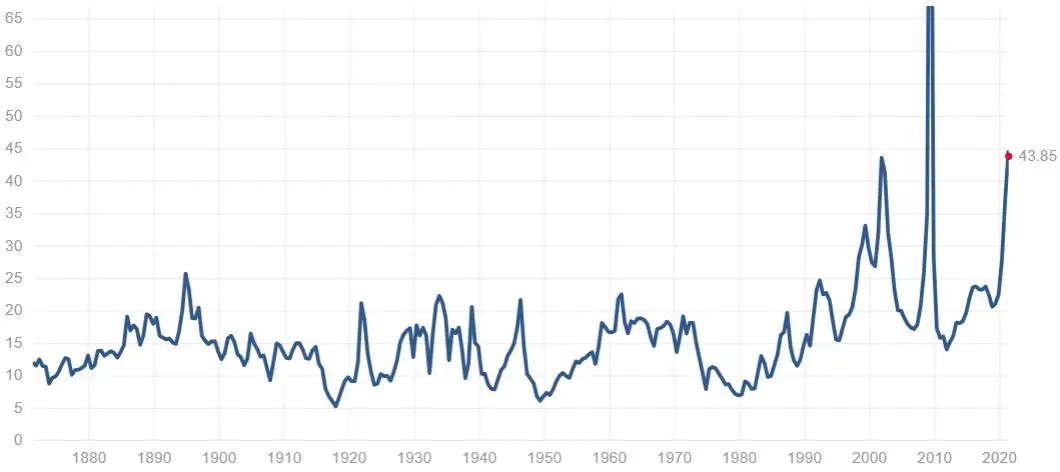 So is the efficient market still efficient? Assuming it somehow is, we're still all trying to beat inflation, but as Banker on FIRE points out, there's a lot of reasons why the outlook of a 10% annualised market return for the future isn't rosy (18). But what other option do you have? Bonds, with yields at 1% and correlated to the market anyway. Property and BTL seems to be one option, but the market there looks frothy. REITs, when the high street is shut and companies are moving to slash overheads by a working-from-home and hotdesk hybrid?
There's inflationary pressures too. The US continues to pump money and there appear to be blips. In China there's the combo of a rampant sub-prime lending shadow lurking, and pressure on the increasingly weather and middle-class populace to knuckle down and shut up, else you end up like Jack Ma (19). I think the UK is particularly poorly positioned for future inflation. Anyone watching the housing market in the UK can voice for a spike in prices. There are also issues with import/ export costs due to (pick one) Brexit, COVID, Suez, and actually finding workers since we cut off the cheap European labour supply. But as Monevator says, someone is always crying "inflation, inflation" (9).
How do you plan for the uncertainty? You could do an ermine, VWRL and bags of gold (20). Or what the mega-rich are doing; buy shitloads of farmland (21, 22, 23). Personally, I'm going to keep doing what I've been doing, buy passive ex-UK equities. And maybe dabble in a bit of GME and BTC on the side. Because as Keynes said "the market can remain irrational longer than you can remain solvent".
May's Finances
Checking the assets and liabilities:
These are taken, as always, from my Beast Budget spreadsheet. I saved around 49% (42% not including pension) of my salary, a return to form. New invested money has gone into a new cryptocurrency holding.
If you fancy a free share, sign up to Freetrade with this link (I also get one).
Budgets:
Groceries – Budget £200, spent £200.77, last month £243.91 – Better
Entertainment – Budget £100, spent £99.95, last month £100
Transport – Budget £250, spent £177.91, last month £233.97
Holiday – £150, spent £0, last month £0
Personal – £100/ £143.68/ £246.48
Loans/ Credit – £50/ £60/ £250
Misc – £50/ £52.50/ £191.14
Fees – £300 /£33.27/ £476.77
In the garden:
I have to agree with Monty Don off Gardener's World, our garden is about two weeks behind last year. Having said that, potatoes are well up and early peas are cropping. Getting huge amounts of salad in the form of various lettuce leaves, sorrel, radishes, spring onions and the tail end of land cress. Courgettes, squashes and pumpkins are almost ready to plant out, tomatoes are getting bigger and the french beans have started climbing their poles. Grass hasn't quite recovered from last years building work, so will need some more re-sowing and watering.
Happy June everyone!
The Shrink
N.B. After all that doom and gloom, here's a list of a load of ways in which we're making the world a better place (24).
References: