What am I blathering on about this week?
We've been watching a lot of Marie Kondo on Netflix in our house. If you've not seen it, it's a bit of a weird sell. A tiny japanese woman with a penchant for organising sorts out hoarders houses. Here she is (1):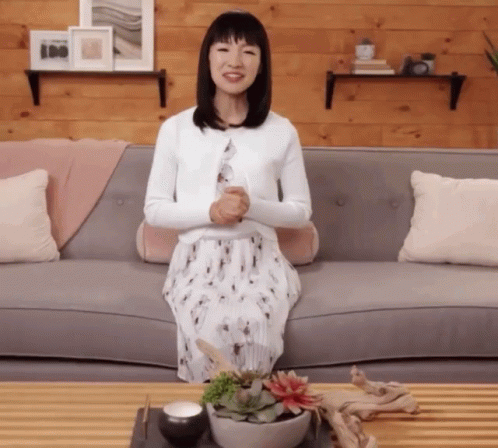 Now she's made a profession (and massive cash) out of perfecting tidying up. She's sold millions of books, and sparked plenty of knock-offs (2). Her key points are fairly simple, and revolve around attacking things in a certain order, with a future goal in mind, and only keeping items which 'spark joy' (3). There's no point having 20 photo albums you never look at. Keep one or two collated versions somewhere you can see them regularly, etc…
This floats pretty close to minimalism for me. It's an easy to digest, more accessible, less elite version (4). After all, minimalism aims to:
Eliminate our discontent
Reclaim our time
Live in the moment
Pursue our passions
Discover our missions
Experience real freedom
Create more, consume less
Focus on our health
Grow as individuals
Contribute beyond ourselves
Rid ourselves of excess stuff
Discover purpose in our lives (5)
It's a counter-cultural push against the consumerism of general life (6). And as such it sits well with the FI community, in the general 'buy less shit' stakes. I've always liked the idea of minimalism. It fits a Manhattan loft/ bourbon and grubby nightclubs life-direction which is never likely to be achieved. I'm just fairly shit at it. I own a lot of stuff. Much of the stuff is fairly tatty. We've lived like students for 10 years and many items have been bought as 'do-fers'; they'll do for now. 5-10 years on they're still doing. I've been de-cluttering over the last six months, but I'm still left with a sense that a lot of stuff with remain. I will never be minimalist. Marie Kondo tells me it's okay if my stuff sparks joy. So my garage full of tools which spark joy when I have the right tool for the job is okay. The 'do-fers' don't spark joy, so they'll be replaced with items which do. Ultimately I think that boils down to an intentionalism approach to items, as we try to be more intentional with the choices we make in our lives. Why fill your life with shit that makes you miserable.
"Wealth consists not in having great possessions, but in having few wants." -Epictetus
Have a great week,
The Shrink
Other News
Opinion/ blogs:
The kitchen garden:
What I'm reading (affiliate links):
Food Of The Gods: The Search for the Original Tree of Knowledge: A Radical History of Plants, Drugs and Human Evolution – Terence McKenna – An ethnobotanist explores humanitys' fascination with hallucinogenics, and the role of altered states of consciousness on the development of human society.
References: