What's piqued my interest this week?
The above question appears to be a recurring theme in our little niche of the financial blogging community. High-profile, mainstream public-facing blogs like MMM and the Frugalwoods argue that anyone and everyone can potentially be financially independent and retire early, if they take the right steps (1). It's great for selling the story and motivating potential readers, but to me it's selling an impossible dream.
To explain let's draw up some basic sums. The amount most people can save towards an early retirement can be defined as:
Amount saved = (Defined pension + take-home Earnings) – (Basic living + lifestyle Costs)
A = (D+E) – (B+C)
For the sake of simplicity we'll ignore tax rebates, dividend payments, inheritance etc. I'm not even going to bother running this on a minimum wage. Instead we'll start at the UK Living Wage, currently £9.00/hr (2). This is built on the Minimum Income Standard, which calculates the cost of the average basket of goods required for a household to afford an acceptable standard of living (3).
A 23 year old working a 37.5hr week on £9/hr that will see a yearly salary of £17,550. Plug that into a salary calculator, incorporating 8% pension contribution with an 8% employer match. That's D and E. The Living Wage is based upon a minimum acceptable standard of lifestyle, so we'll use that figure again for B, with £0 lifestyle inflation cost and we get (4):
A = ((£76.79 X 2)+£1214.81) – (£1214.81+£0)
How does that lifestyle cost compare? Well the average UK 1 bed flat costs £600, but that's skewed by London's ridiculous prices (5). Say instead you're sharing or living in an area with cheaper housing, it's more likely to be £400/month, this represents ~30% of your earnings and so if a fairly accurate representation given the UK average is 25% of earnings spent on accommodation (6). If you get can by on another £600/month for all other expenses then well done, you can save £215. Add in your generous pension contributions and you're up to £365/month put aside for the future, or £4,380 annually. Run that number through a rough early retirement calculator and we get that you can retire in 33 years. So that's early retirement at 56 for a lifetime spent in a one bed flat and minimum acceptable standard of living.
Not realistic? Lets work another example. Example 2:
30 year old earning median UK disposable household income (2017) of £27,300 (7). Same sums, same aggressive pension match, £1715.31 take home. This time our 30 year old has got bored of living in digs, and is instead renting a two bed new build in a LCOL area. £750/month for rent gets you access to homes in 67% of the UK, so compared to Example 1 you'll pay £350 more/month (8). Your lifestyle has inflated a bit, but not much, just a few beers now and then, a better phone, a decent tv and slightly better food. Say £100/month? So, let's punch that into our equations and calculators:
A = ((£141.79 X 2)+£1715.31) – (£1214.81+£450)
A = £334
Retire in 44 years
Ouch. That lifestyle inflation has hit hard. Your early retirement age is now 74. So what do you do? Cut back on the house size or go back to shared accommodation? Stop drinking and eat 7p basics noodles? We know that actually, due to the benefits from our taxation system and social support services, a moderate increase in income in the lower quartiles makes little difference to disposable income (available for savings). Lifestyle inflation at this end quickly gobbles up the extra earnings as you are now comfortable, not just-about-managing. Do you make yourself uncomfortable to retire early? That requires a special type of motivation (9, 10, 11).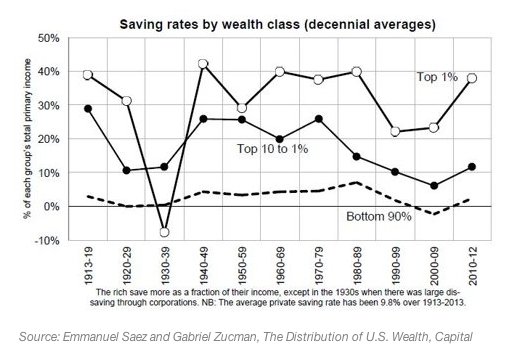 You have to be a high earner to achieve the % savings rates required for early retirement without living uncomfortably in some way. Ignoring this fact is dreaming. Most people will not achieve early retirement without either lifestyle discomfort or a serious increase in their earning power. That's FIREs dirty little secret (11). To say otherwise is to sell a dream.
I don't think this is a bad thing.
Because the world is driven by soundbites and nicely packaged information, easily digestible and understandable. The majority of the FI blogs pitched to the mainstream do just that, make it easily digestible, understandable and relate-able. A cynic would argue it funds their early retirement through a customer-facing monetised website (12). But I'm not that cynic, this is a good thing, more people should be thinking about their money matters. The UK household savings ratio is currently stuck around 4%, and has been for several years (13):
The financial choices required for early retirement are for everyone. 
The'ye just a good idea. Just by thinking about your finances you're ahead of those ignoring their accounts. To crib my fellow medical colleague, the female money doc (14):
Know your numbers
Build assets
Get out of debt
Buffer it
Consider extra income streams
Anyone could achieve financial independence, but not everyone can. The effort can only be a good thing. No shame in trying!
Have a great week,
The Shrink
Side Orders
Opinion/ blogs:
The kitchen garden:
What I'm reading (now affiliate links):
Tombland – C.J. Sansom – I love the Shardlake series, detective novels set in the Tudor period with a crippled lead character. Beautifully written.
Food Of The Gods: The Search for the Original Tree of Knowledge: A Radical History of Plants, Drugs and Human Evolution – Terence McKenna – An ethnobotanist explores humanity's' fascination with hallucinogenics, and the role of altered states of consciousness on the development of human society.
Enchiridion by Epictetus – Bedside reading for a bad day
References: