A return to the Frugal Motoring series, and a window into one of my side hobbies, Bangernomics. I could write a whole separate blog on Bangernomics, many do, but mainly I confine myself to esoteric forums tucked away in little niches of the internet. The term Bangernomics was first coined in 1989 by James Ruppert, the chief and foreman of the subsequent Bangernomics cult/ movement/ belief (1, 2). A motoring journalist, James found himself returning to the UK for a few days and at a loss for transport (2). After adding up potential public transport costs, he worked out it would be cheaper to buy a banger and run it (2). The subsequent press feature, titled "Better than walking" caught the eye of the public, and the movement ran from there (2).
The general premise of Bangernomics is this:
Target a cheap banger car for <£1000 or <£500 (depending on the source of your opinion)
Do your research, read up on common problems with the car and which models/ engines to avoid or go for
Find a car to buy, originally and potentially through car auctions, but often these days through eBay/ Gumtree/ other online platforms
Inspect the car very carefully before buying
Look after the car with strict basic maintenance. Servicing and basic work is relatively cheap, cheaper if you DIY
When the car reaches a point of a potential uneconomic repair (clutch, gearbox etc) scrap it, sell on or break for parts
James Ruppert's mantra here is "beware of the dog" (3). Avoiding hopeless sheds and going for the well-loved family cars at the bottom of their depreciation curve and with the curb appeal of steaming dog droppings. You have to be prepared to own and drive something which will make your friends' and neighbours' toes curl. Which is where I think the frugal, financial independence-minded community Venn diagram transects with Bangernomics. Many FIRE bloggers couldn't give a flying monkey about keeping up with Jones' in other respects, so why do they continue to with cars on PCP?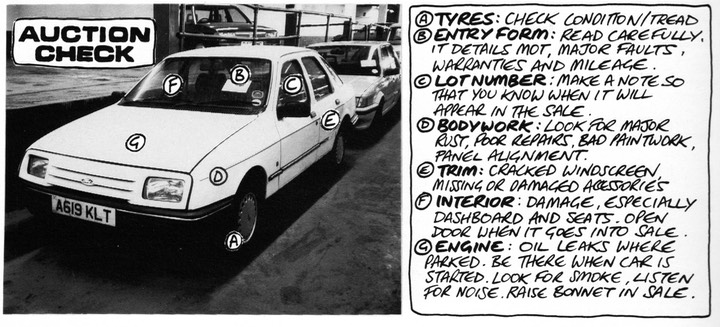 But I know nothing about cars, what can I do?
Happily, the Bangernomics community are really helpful in this regard. When I first started I adopted the opinion that I am of at least average intelligence, and therefore I should be able to learn how to fix and maintain a car. These are all useful skills.
James Ruppert publishes a book on how to subscribe to Bangernomics (1, 3). He also maintains a series of free buying guides, a buying checklist, and a blog for advice (1, 3). For make and model specific guidance, other Bangernomics blogs have published their own buying guides, and people share their knowledge on the Bangernomics forum, as well as the more popular Pistonheads and RetroRides (4, 5, 6, 7). YouTube is an invaluable source, as many thousands of amateurs publish how-to guides.
Not sure what to buy? There's plenty of column inches and forum posts detailing peoples failures and successes. Some highlight their own experiences, listing successes and tips, others offer guidance on good target vehicles (2, 8, 9, 10, 11). My own experience has been tempered by a job requirement to appear respectable and not fail to turn up to work, so people don't die. I've never spent more than £2k on a car, and average 12p/mile in cost over the life of my daily car for purchase price and maintenance. One memorable snotter was bought for £1k and survived 8 years and 80,000 miles of abuse. I also abuse Bangernomics a little by purchasing classics at the bottom of their depreciation curve, before they begin to appreciate as an investment.
Bangernomics, the financially independent motoring choice
A little whistle stop, but hopefully a jump-off point for many. DIY car maintenance should not be a scary thing, and by avoiding it people miss an opportunity to save. Bangernomics offers the opportunity to learn some skills, save some money and tell some good stories, as long as you can put up with some graft, the odd breakdown and minimal social respect for your new whip.
Have a great week,
The Shrink
Next time on Frugal Motoring – Should I buy a petrol car?
References: